WordPress
For the site we are going to be using WordPress. WordPress started out as an open source blogging platform, but has developed into a complete content management system.
WordPress is still open source meaning that it is free to use, add to, modify and edit. So you are able to adjust the setting to suit what you want your site to look like.
WordPress - Which One?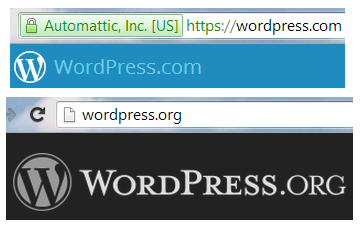 There are two possible ways of dealing with WordPress - you can have the site hosted and managed at wordpress.com or you can self-host using the services offered by wordpress.org.
We are going to be self-hosting using the wordpress.org but there are some features that may need us to have an account at wordpress.com, so we will step you through that process and then you will be sorted for when we need it.
If you have been following along you will have your domain registered and a hosting package purchased and they will be connected, so now is time for us to install WordPress and adjust it to suit our needs.
What are we going to offer you here?
Here you are going to get information on WordPress everything from installing, setting up and customizing. These links are to items covering all things WordPress, have a read through them and use what you learn to get started.
As we add new items this list will get longer so make a point of coming back and checking it out or you can sign up to our Email list and we will tell you when new items have been added.