Time to Publish in WordPress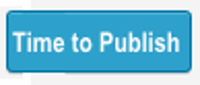 Time to Publish in WordPress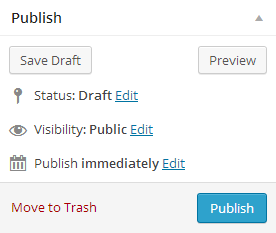 When you have your post/page written in WordPress the next thing is a time to Publish it for the world to see.
The publish meta box is on the far right hand side of the Add New Post / Add New Page page. There are several different ways that you can publish you post in WordPress.
Status
The options in the publish box are: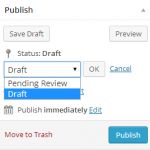 Status - selecting this will give you the chance to take the post from a draft to a published post and other statuses in between. Pending review is used if you have other writers doing posts for you but you want to check them before they go live.
Visibility
Following on from this you have visibility - the options with this are:
Public - everyone sees your post. This also has the option to make this a sticky post ( namely it will stay at the top of the blog and all other posts will appear below it)
Password Protected - These are usually something that you only want a select few readers to see or you may charge for the password to get access to the post.
Private - This is for you alone to see.
Most posts you do will come under the Public selection which is the default option.
Publish Immediately
The final option in the publish meta box is publish immediately - If you click on the edit button you get the chance to schedule your post or page to be published at a later date or at a date in the past!
If you pick a date in the past and click OK then click schedule the post will be published straight away but it will appear down in your blog to suit the date and time you picked. This will mean that unless someone is looking for that particular post they will probably not see it.
When you click on the edit button a calender will appear and you can set a date and time for the post or page to be published.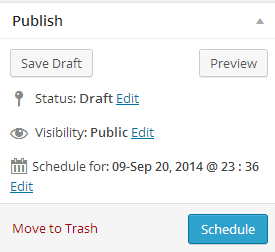 When you click on the OK button the screen will change to show that the post is now scheduled for a set date and time and the bottom button has changed from Publish to Schedule




All you need to do now is go and write your pages and posts!
Good luck and keep calling back for more helpful guides.