The Host with the Most
The Host with the Most!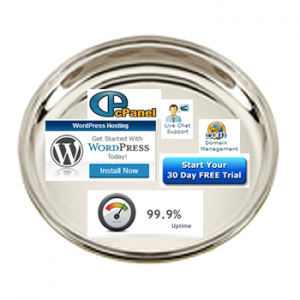 It's more the host with the most appropriate service for you. Getting the right host for your WordPress site is important for many reasons the main ones being:-
They are set up to work with WordPress. When working with WordPress you can set it up yourself as long as your host is using PHP and Mysql databases, but that is giving you a lot of work. A lot of the main hosting companies are set up for working with WordPress and that is what you want to find. Look for phrases like "WordPress install Now" or "WordPress support" or "easy WordPress installation."
As much storage as you need. - It is hard to determine if it has as much space as you need because being a shared service you are going to be along with others and if one of them gets a spike in traffic you are going to be affected. Now the bigger companies will have the services set up so that it is very unlikely that this will happen but just remember it is a shared service and can be prone to this set back.  The point is that you do not want to be worrying about whether your latest blog post will push you over your bandwidth limit.
You are not limited to one Domain only. - This may be the only site you will ever need, but who knows! You may like how easy this was to set up and go get another. Wouldn't it be terrible if you had to go find a new host now? Try to get a service that offers the ability to have multiple domains on it.
Are they confident enough to offer a free trial period. - You should be able to evaluate the service over at least a few weeks to figure out if you're comfortable there.
Hello! Hello! Is there anybody there? — Don't you hate it when you can't get help. Find out how to get support and if you can't find it or get it, it's time to look somewhere else.
Will they back-up your files for you -  Do they back up your files or offer a way for you to do it easily?.
---
Want more great information like this? Just enter your email and click "Sign Me Up!"
---
Well you can spend lots of time going through the many different providers out there or you can opt for what we consider the best one for WordPress hosting, and the award goes to.... HOSTGATOR!
When you go through what they have to offer and the support they offer it is hard to look beyond them. So if you are going to start off small or big they have a package for you.