Putting Your Host And Domain Together
Putting Your Host And Domain Together

Lets get married!
Sorry I already have a wife :0)
Fortunately I am talking about your Domain and your Hosting Services getting hitched. Due to the fact that we registered our domain with Namecheap and got our hosting from Hostgator we have to link (marry) the two together.
Hostgator
This is the reason that away back at the start I said you need to sort out the hosting first when you sorted out the hosting you would have got a confirmation email, in it would have been your server name this is normally listed as:
NS1: ns****.hostgator.com
NS2: ns****.hostgator.com
---
Want more great tutorials like this? Just enter your email and click "Sign Me Up!"
---
Namecheap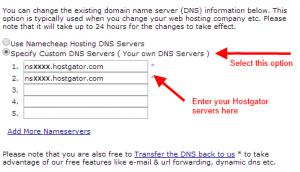 Now when you register your domain you will select the option to enter your host address. Enter the address you got in the email, press update and wait.
As fast as computers are this can take a few hours to happen, so don't panic if you can't find your domain.
With these two married you are ready for the big time namely building your WordPress powered site.