Plugins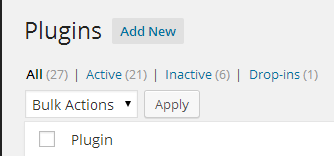 WordPress Plugins are the "icing on the cafe" when it comes to WordPress installations. They allow us to add features to our site that customize it for us. Just adding a plugin can take a WordPress site and turn it into an Ecommerce site or a membership site - just like this one.
What are we going to offer you here?
Here you are going to get information on WordPress Plugins, everything from installing and setting up. These links are to items covering all things to do with WordPress plugins including the main plugins that every set up should include, have a read through them and use what you learn to get started.
Listed here will also be the plugins you need to install and how to set them up to get the best out of them.
As we add new items this list will get longer so make a point of coming back and checking it out or you can sign up to our Email list and we will tell you when new items have been added.