Let's Get Personal
Let's Get Personal
Is Google showing your good side?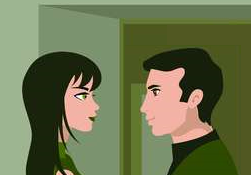 What I mean by getting personal is you need to get personal with your customers and you start this by showing them the person behind the mask.
Your customers need to trust you and if all they see is a logo they are going to think twice before buying any thing. You need to put a face to what you do. Also Google likes it and is starting to credit you with authorship of your work.
You may have noticed in the search results that Google are showing the picture the author has set up, if this is a logo some people will by pass it by but with your picture they will get a bit of security as the saying goes
It's good to but a face to the name
This is true on the web where people like to see who they are dealing with.
---
Want more helpful information? Just enter your email and click "Sign Me Up!"
---
Let's Get Personal - How do you do that?

One of the easiest ways to do that is to use an avatar from gravatar.com this uses a picture you give them and links it to your email address. When you write a post or comment on a post and you have logged in with your email address then they will get your picture from Gravatar and show it beside your post. Now which looks better to the reader the Gravatar logo or an image saying "Visitor" or your smiling face looking back at them. To me it is always better to have a face there it gives the post or comment more meaning.
Let's Get Personal - Google+ Authorship.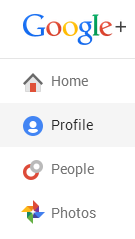 To get credit for your work in the search results on Google you have a few more steps to do.These are not too difficult, unless of course you don't have a Google+ account!
In your Google+ account you need to let Google know that you are writing on the site, you do this by adding yourself as a contributor to the site.
In your Google+ home page click on the arrow beside the Home icon in the drop down menu select profile.

With the Profile window open select About in the menu, this takes you into your personal details that you entered when setting up the account.
In the bottom right side of the window is an area for entering link details, these are for links to your accounts, to sites you are the owner off or you contributor to. For the sake of getting credit on Google search you need to be a contributor to a site.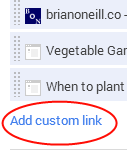 Click on the edit link at the bottom of the link box and then click on the "Add custom link" option.
This will open up a new window allowing you to add a site that you contribute content to. Enter a label - this is for your display, enter the URL of the site - just enter the domain name you don't need to enter the post/page that you did, Google will get that from the post/page author information.

Now that Google knows you are contributing to the site you need to have it set up on the site so that it will let Google know which posts/pages you helped on.
In your WordPress site you need to do 2 things
Install a new plugin - Google Plus Contributor
Add your Google + ID to your profile.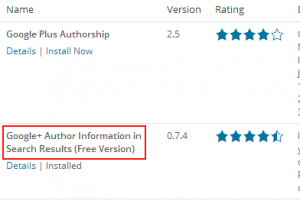 Step 1 - installing the plugin.

In your Dashboard move the mouse over the Plugins option in the menu in the pop out sub-menu select Add New.

In the search window enter "Google Plus Authorship" and hit enter.

In the results click on "install now" for the "Google+ Author Information in Search Results (Free Version)"
Step 2 - Adding your Google+ ID to your profile.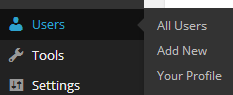 The next step is letting Google know which parts of the posts/pages you have worked on, you do this by adding your plus ID to your site profile.
In your Dashboard move the mouse over the Users option in the menu in the pop out sub-menu select Your Profile.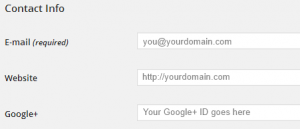 In your profile page scroll down until you see the section for your contact info. Enter your Google+ ID in the box - note this is the full URL for your account.
Now you are set, Google will be able to see which parts you contributed to the site and will credit you with them in the search window.
Let's Get Personal - Final Thoughts.
So off you go and get your picture loaded and start seeing it coming back to you on every thing you do and it is nice when you finally meet people and they say you look just like your picture and not "It's good to but a face to the name"!